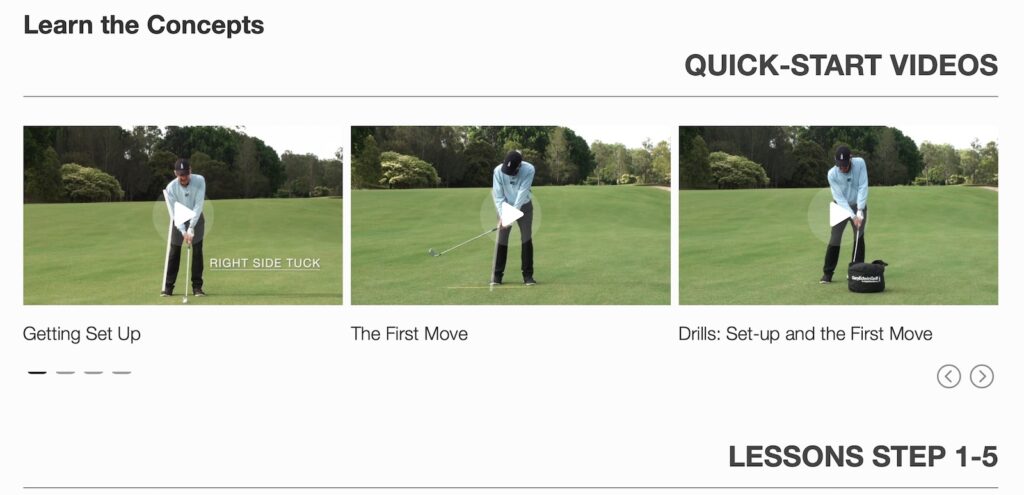 Our passion is to assist golfers at all levels to be the best they can possibly be and to inspire them to enjoy a life-long love of the great game of golf. We aim to invest golf enthusiasts, coaches and anyone interested in improving their golf with an effective and easy-to-use resource directed at actually understanding what an effective golf swing is, and why it is effective.
What is our mark of distinction? Fault-detection. We empower you to understand your personal Swing Pattern and then show you exactly how to correct it.
Our swing technique is minimalist. Our core philosophy is that to fix bad motion in a golf swing one must first identify its cause or "origin".
We believe that anybody can learn to be a great golfer if they have a basic understanding of a few simple, interconnected concepts.
On this website we provide Video Tutorials and Drills that empower mastery of your own technique. Our 700+ videos supply everything you need to become an outstanding golfer or golf coach.
SO WHERE DO I START?
If you can't attend one of our Golf Schools or Seminars, you can now learn The Right Sided Swing online at your own pace in our Members Area. The video tutorials in that Area is where your golf swing journey begins.
Understanding the lessons on Body Shape, Wrist Angles and the Direction of the Turn is the essence of building a simple, powerful and repeatable golf swing. We believe that anybody can become a great ball-striker if they understand the basic concepts explained and demonstrated in these lessons.
We welcome any comments or questions you may have, so feel free to email us. Our coaching staff and I look forward to perhaps meeting you and taking your game to the next level in the not-too-distant future.
Start Learning Now
Step 1 – Body Shape and Posture
Posture and Shape are words that relate to body at setup. This series of videos will show you:
The true meaning of posture, how to get into an impact position at setup
The proper relationship between to top and bottom halves of the body
Head angles
Videos from Instructional Seminars and Live Lessons with Gary Edwin
Step 2 – Radius Wrists and Arms
The next step is understanding the correct arm bend and wrist angles at setup. If you get them right at the start, there is no need to change them during the swing. Videos include:
Easy ways to get your radius right
The correct angles of the arms and wrists
Arm direction
Common mistakes and issues, and how to identify & resolve them
Step 3 – Turn
Once you have your wrist and arm angles, getting an understanding of the direction of the turn is the next step. In the Right Sided Swing the turn direction maintains the original spine angle throughout the swing.
The difference between coil and turn
Common turn patterns, like over-rotated and the tilt, and how to correct them.
Drills to perfect your turn, and correct any bad habits
Step 4 – Weight Shift
Once you understand the motion of the turn, the concept of bumping or leaning
The transition
Balance and the first move down
Where to put the pressure
Gary answers frequently asked Member questions
Step 5 – Drills
This section contains all of the Drills you need to train the body and put what you have learned into a motion.
Swing Models
Our members have access to archive footage of many great players, analysing how their swings work, and giving you a chance to learn from the best. Players include:
Rebecca Artis
Rod Pampling
Gavin Coles
Dohoon Kim
Peter Senior
Peter Lonard
Michael Campbell
Scott Gardiner
Jan Stephenson
And many more.
Compare Member Levels
| | Gold | Platinum | Ultimate |
| --- | --- | --- | --- |
| TRSS Foundation Videos | | | |
| Step 1-5 Videos ( 70+ Videos) | | | |
| Short Game Videos | | | |
| Members Q&A | | | |
| Video Streaming | | | |
| Video Download | Step 1-5 | Key Videos | Key Videos |
| Live Lesson Vault | | | |
| Full HD Player Articles and Lessons | | | |
| Behind the Scenes Vault | | | |
| Personal Manual eBook | | | |
| Secret Wrist Angle Trainer | | | |
| Impact Bag | | | |
| Private Member Community | | | |
| Golf Schools | | 10% Discount | 10% Discount |
| Swing Advice | | | |
| | $59/ 1 Month | $149/ 1 Year | $299 |
Gary
I don't have many regrets in life but the one regret I do have is not meeting you when I was in my thirties
I am 64 and can honestly state I have never hit a golf ball like I currently hit it !

Nigel Walmsley ★★★★★
The swing support and daily videos you guys do are incredible. I can finally play the game!

Patrick Dempsey ★★★★★