Welcome to our Members Area
I think we've put together a pretty special and very comprehensive resource for golfers of all levels to improve in the easiest way possible.
Whether you are competing against your friends, in club competition or on a professional tour, it's about improving your technique, making it simpler so that it repeats. As you will see, I teach the same things to beginners as I do to my tour players. It's about giving you the right information, in the right way, for the best results.
A Membership For Everyone
What we have are three different memberships that give access to this site, along with a whole bunch of useful gear to make you a better golfer.
No fuss, no big hype. Just the right info, demonstrations and gear to get you sorted.
HUGE Video Library
Members receive:
A Detailed Step-by-Step Program
Members Q & A, Forum, Daily Video and Posts
View Live Lessons with Gary's Tour Players
Access to Gary's Key Coaching Seminars
Access to 700+ videos in the Members Video Vault
Advice and feedback from our Instructors and Private Member Community.
Your site is tremendous. Every concept is explained and made simple, great online instruction…
…Personally I think it is the best website for golf instruction going around.
Compare Member Levels
| | Gold | Platinum | Ultimate |
| --- | --- | --- | --- |
| TRSS Foundation Videos | | | |
| Step 1-5 Videos ( 70+ Videos) | | | |
| Short Game Videos | | | |
| Members Q&A | | | |
| Video Streaming | | | |
| Live Lesson Vault | | | |
| Full HD Player Articles and Lessons | | | |
| Behind the Scenes Vault | | | |
| Personal Manual eBook | | | |
| Secret Wrist Angle Trainer | | | |
| Impact Bag | | | |
| Private Member Community | | | |
| Golf Schools | | 10% Discount | 10% Discount |
| Swing Advice | | | |
| | $59/ 1 Month | $149/ 1 Year | $299 |
Get 24/7 access to world-class golf coaching – all you need is a phone, tablet or computer. Watch our lessons at home, the range or while you are on the course.
Quickly and easily make the adjustments to your swing – when you need it most!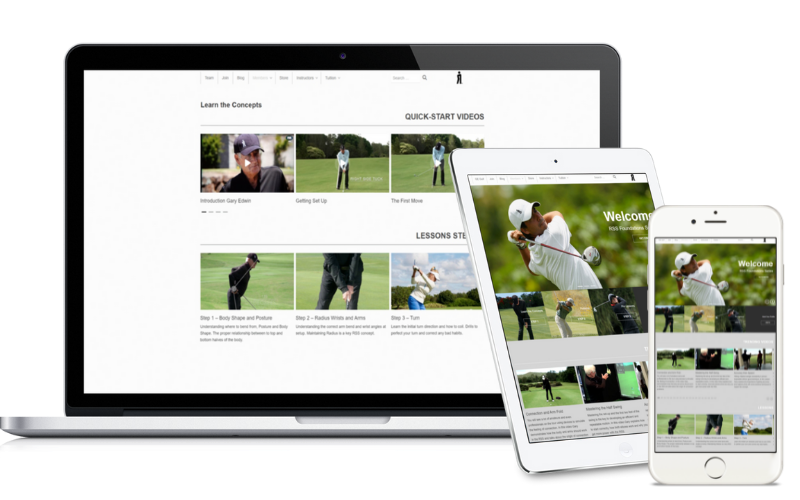 My Commitment To You
My commitment to you is simple.
We'll give you all the information you need to develop a swing like my Tour Players. You can learn the Right Sided Swing online at your own pace.
Build a simple, powerful and repeatable golf swing.
Along with that, you'll receive a whole range of:
further information
swing advice and video feedback
lots more
depending on what level of Membership you sign up for.
We're committed to providing the absolute best golf instruction online and hope we can help you improve your golf, enjoy all the site has to offer and get that score down!
Thanks for taking the time to visit Gary Edwin Golf and if you have any questions, please send us an email.
Regards

Gary Edwin
Hope to welcome you into the group soon.
Gary
I don't have many regrets in life but the one regret I do have is not meeting you when I was in my thirties
I am 64 and can honestly state I have never hit a golf ball like I currently hit it !

Nigel Walmsley ★★★★★
The swing support and daily videos you guys do are incredible. I can finally play the game!

Patrick Dempsey ★★★★★