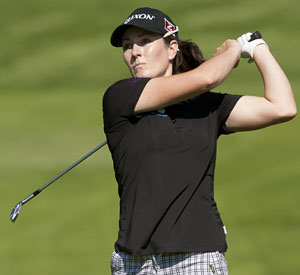 Rebecca Artis has had a busy three-week stretch of golf competing in the Aberdeen Asset Management Ladies Scottish Open in Scotland, the Helsingborg Open in Sweden and the Garden City Charity Classic in Kansas. She has also had a successful three-week stretch with finishes of T3, 2 and T2 respectively.
"I'm coming into this week knowing that I'm playing some pretty good golf," Artis said. "I'm just trying to keep a good mindset of fairways and greens. I'm going to go out and play my own game and hopefully the scores take care of themselves."
After day one of the Symetra Tour Championship it looked like that hot streak may be coming to an end for Artis who opened with a 74. Fortunately, the Aussie was able to bounce back with a bogey-free round of 66 to get right back in the mix, sitting in a tie for 12th.
"It's very difficult. This is my fourth week in a row. Four is probably my limit," Artis admitted.
While four tournaments in a row may be her limit, Artis is hoping the fourth week is the charm and that she can win to earn her 2015 LPGA Tour Card.
"I'm trying not to put too much pressure on myself but, obviously, the LPGA is the goal."