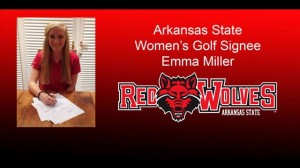 Arkansas State head women's golf coach MJ Desbiens Shaw announced Tuesday that Right Sider Emma Miller from Wales has signed a National Letter of Intent to continue her career at A-State.
Miller began playing golf at age 13 and has been a member of the Welsh Girls U18 Squad since the age of 14. In 2012, she was second in the South Wales Girls Championships and finished ninth in the Welsh Girls U16 Championships. To close out the year she was awarded the South Wales Girls Garfield Trophy.
Earlier this year Miller finished 10th in the Mid Wales Girls Open and also recorded a second-place finish in the Monmouthshire Girls County Championships. She was a member of the Newport Team at the club level and helped the team to a runner-up finish in the Ladies Welsh Team Championships. She earned the Newport 2013 Ladies Singles Knockout Competition championship and finished sixth in the Welsh Girls Championships, which earned her a selection for Wales in the 2013 Home Internationals. During the Home Internationals, she was the winner of the Jane Roberts Cup, which is awarded by Wales to the girl that scored the most points in the competition.
"This is another great signee for the A-State women's golf team this upcoming year," Desbiens Shaw said. "I am so happy that Emma decided to commit to us. She will be a wonderful addition to our team and a great player full of international experience. Emma is very dedicated in her sport and will definitely show her competitive side right away. Emma is a great student who will do exceptionally in the classroom."
Emma gets coached by Senior UK Instructor, Luke Ringrose, and has worked with Local Welsh professional and GEGAS Training Instructor John McDonald at Celtic Manor. Well Done Team!