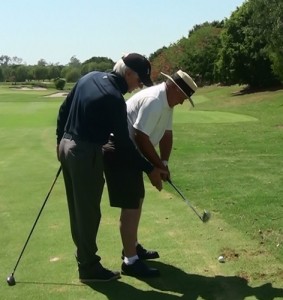 Jason Pavese and Federal Golf Club will be hosting Gary & Peter Senior for their 2017 Pro-Am on Friday 7 April.
Gary & Peter will be doing a clinic from 10-11am with Peter playing the event starting just after midday. The clinic will be attended by event sponsors but all Website Members and Right-Sided fans are encouraged to come along and watch and also follow Peter around in the afternoon.
The clinic will feature Gary & Peter's association – Pete's history, how his career has evolved and how meeting Gary enabled him to achieve career highs well after most of his contemporaries have hung up their clubs. Gary will go into some detail on what he's done with Pete and the things they still work on.
Peter Senior will also be playing Matt Millar's event, the Austbrokers Gold Creek Pro-Am Saturday & Sunday, 8-9 April.
All right-sided fans are welcome to follow Peter for both events and also Taylor Cooper who is in town for the Canberra Pro-Am Series. Taylor has posted several top five finishes in recent events.