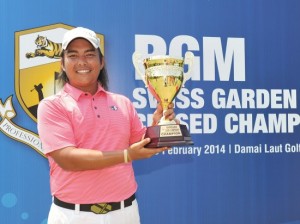 Hans Jamil eagled the final hole to cap a dramatic twist to the RM160,000 Professional Golf of Malaysia (PGM) Swiss Garden Championship at Damai Laut Golf & Country Club on Saturday.
The 26-year-old from Kuala Lumpur who works with Right Sided Instructor Ayoub Oussar, shot a one-over-par 73 for a three-under 285 overall, claiming his maiden professional title at the expense of overnight leader Kemarol Baharin (77), who led slip a seven-shot cushion with an error-strewn back nine to settle for third.
"I'm absolutely delighted that a nine-and-a-half year search has come to a fruitful end. It was not easy but I am equally relieved that at last I have won on the Tour. This win is so emotional for me and I wished my mum was here to celebrate this win," said Hans, who picked up a cheque of RM27,000.
"My plan was to just try and make as many birdies as possible and then see where it all took me but it didn't really happen. I feel for Kemarol because he had a wretched run on the back nine but I've been knocking the door on so many occasions and I took my breaks when it mattered today," added the flamboyant former national, who turned professional at 17.
Leading final round scores
285 – Hans Jamil 69-73-70-73
287 – Iain Steel 72-74-66-75
288 – Kemarol Baharin 72-67-72-77
290 – Rashid Ismail 70-75-73-72, R. Nachimuthu 74-72-71-73
291 – S. Murthy 70-75-72-74
293 – Nicholas Fung 73-76-74-70, Shaaban Hussin 72-74-73-74
294 – Kenneth De Silva 74-74-74-72, Danny Chia 76-73-72-73
295 – Akhmal Tarmizee 74-74-75-72
298 – Airil Rizman 84-75-66-73, Faridil Atras 76-74-71-77