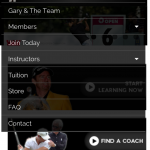 We have just upgraded the site so that it works better on your mobile phone and tablet. The new responsive design went live today and we have included a few new features.
Instructors Area: GEGAS Instructors can now download their course work, view video lessons, post swings and get help from Gary and other Instructors.
Members Forum: Members can now start threads, post comments and swings, get help from other Members, and find the right information more easily. Click notify me of follow-up replies via email after you post.
We really appreciate your feedback, please let us know if you need any help with the new features.
Regards
Gary and the Team