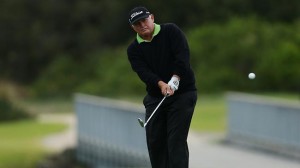 PETER Senior has believed there is no such thing as old in golf since being inspired by Tom Watson nearly winning the British Open at 59.
The remarkable evergreen is back in Coolum, keen to contend for his fourth Australian PGA title. Here he talks to The Courier-Mail's Jim Tucker…
You've just won the Australian Open at 53. How close are you to the golf you played in your prime in your early 30s?
I'm probably hitting it more consistently than I did in the late 1980s and early 90s when I had a good stretch of (winning) tournaments. I'm definitely more consistent than I have ever been and I have to thank (coach) Gary Edwin for that. We have worked pretty hard on certain areas. I went to Gary in 1997 and I was almost ready to give the game away, I was playing that badly. We turned it around … I still go back into the old habits but with modern technology now he's only a phone call away and it's great.
How does modern technology help, with you on the Champions Tour in the US and Edwin back in Australia?
You can Skype. You can hit a couple of bad shots on the range and he can be back in Australia and send me the results. He has been fantastic. I owe a lot to him and his son Luke, who watches over my short game.
Was it a great feeling to share an Australian Open win with Mitch as caddy?
It was great to have my son on the bag for our first win and he was over the moon. He was almost speechless on Sunday and he's still not getting over the 1 per cent ($2500 share of prizemoney). I told him he was paying our airfares up from Sydney, so half of that is gone already.
Did you think you would be sitting at Coolum as Australian Open champion, 23 years after your 1989 success?
Well, I have had a little bit of time to reflect on what might have happened. We were so close to calling off the last round (for high winds) – I might have finished third and (third-round leader) John Senden might have been sitting here. A lot of things went my way on the final day and I am very appreciative of that.
Do you have good feelings returning to Queensland and a patch you know well at Coolum where you won just two years ago?
I always have good feelings. Golf rears some unlikely winners sometimes. I always take heart with watching Tom Watson nearly winning the British Open when he was almost 60 against probably the best field in the world. There is no real age limit to winning golf tournaments. We are lucky that we live and play a long-life sport and I am looking forward to the next couple of seasons.
Is it disappointing to see the split that means the Australian PGA is leaving Coolum next year?
We have been here for 11 years now and this is a great tournament to finish the year. Coolum has been a great place with its family atmosphere and the village square where everybody gets together in the evening which never happens at any other tournament. It will be very sad to lose that. I'm sure the tournament will kick along.
You live at Hope Island where there is a pretty handy course. Are you pleased the Gold Coast is frontrunner to host the PGA next year?
It would be nice to have it on the Gold Coast because we haven't had a tournament there for such a long time. We have some really, really good resort courses and I think they will come up trumps. It should be on the Gold Coast. It gives the guys an opportunity to have the same atmosphere we have had here at Coolum. Young guys like to sort of manoeuvre out every now and again at night. If we played it in Brisbane, it would be sort of all over the place (with players scattered at different hotels).
You had another big year on the Champions Tour with 10 Top 10 finishes but again no victory. Is it frustrating to not break through?
I have been there three years now, I've lost three playoffs and run second a few other times. I'm pleased at how consistent I have played but I just haven't done enough to win the tournaments. Hopefully, I can get another two, maybe three, years out of it and then I'll probably call it quits.
Any distractions with the giant replica dinosaur beside the 10th tee?
No, it doesn't worry me. As long as it doesn't crap anywhere we'll be right.
Jim TuckerThe Courier-Mail December 11, 2012