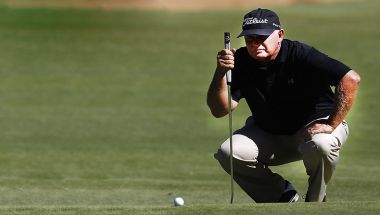 Peter Senior started on fire in the final round of the Brookwater Legends Pro-am with birdies at his first three holes. He finished the tournament on 9-under-par, coming from three back to win with a final round 66.
"It's been more than a year since I have played here," said Senior.
"I managed to fit in a practice round last week and I couldn't believe the transformation over the last 12 months, the course is a credit to all involved."
"I played solid golf out there; I only missed the one green for the day resulting in my only bogey."
Senior is currently 2nd on the Legends Tour Money List.
His putting has improved so much with his new technique he said the other day he wished he had have gone to the short putter much earlier!
Well done Pete!