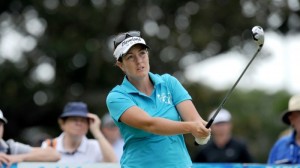 Rebecca Artis put on a ball striking exhibition in front of a heavy Right Sided crowd at Royal Pines Resort on the Gold Coast in the second round of the Australian Ladies Masters. Her bogey on the first hole was quickly forgotten as she reeled off eight birdies in difficult windy afternoon conditions. She is currently leading by three shots heading into the weekend.
"I started the round with a bogey and they always say you start a good round with a bogey. So it was 7 under, I'll take that."
A change with her putting has made a big difference to her confidence, " I've changed my putting to left hand low. I changed after the second round of LPGA Q School which is not ideal but I just felt like I really had to make a change with my putting.  My coach was over there and Geoff my husband who caddies for me he was there, and we just made a group decision that it was time to make a change with my putting  -it's worked wonders really."
"You know, I can start the ball on line now, you know the line I choose, and it's just been a matter of getting used to the feel of it and getting the pace because it feels a little bit different. But I feel like as if you know I've got that now and I feel comfortable over it now. I felt a bit nervous, especially last week when it was the first tournament I played with it but I feel like I'm really comfortable over the putter now and can start the putts on line so which is a nice feeling.
Go Floody!