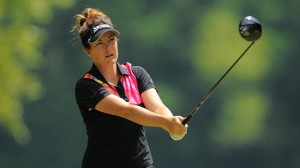 GARDEN CITY, Kan., September 12, 2014 – There may not be a professional golfer that has had a better last three weeks than Rebecca Artis, who fired a 3-under 69 in winter-like conditions to grab a share of the 36-hole lead at the Garden City Charity Classic at Buffalo Dunes Golf Course.  Artis is 5-under 139 for the tournament, tied with Karlin Beck, who held the lead after round one and shot an even-par 72 on Saturday.
Temperatures fell as low as 38-degrees and wind gusts soared as high as 28-miles-per-hour.  Scoring suffered as just eight players finished under-par for the day. Only 13 players are under-par for the tournament.
The cut was made at 7-over-par and 71 players will play on Saturday.  Play begins at 8:00 a.m. on Saturday and the final group of Rebecca Artis, Karlin Beck and Jessica Wallace will tee at 9:50 a.m.
Artis has been red hot of late on the Ladies European Tour (LET).  She finished in a tie for third two weeks ago at the Ladies Scottish Open and finished solo second at the Helsingborg Open last week.
The momentum has continued this week in Garden City.  She carded two birdies on the front nine and three birdies on the back nine including back-to-back on the 12th and 13th holes.  She took sole possession of the lead at 6-under with a birdie on the 16th, but made bogey on the 18th to drop back into a share of the lead.
"Before the round, I was standing on the range and I just said to myself that it is going to be cold out here, the wind is up and I just need to be patient," said the 25-year-old Artis.  "I knew the leaders weren't going to go too far forward with the conditions and I hit some well."
Artis said the conditions were the coldest she has played in over three years.
"I don't think the wind was a massive issue, the temperature definitely was.  It was really cold.  It's hard to put enough layers on to stay warm, but still hit good golf shots."
The Coonabarabran, Australia native has ten birdies, two bogeys and one triple-bogey for the tournament.
"Early on in the year, I wasn't playing bad golf, I just couldn't get any momentum going.  The last couple weeks, I've finally seen some putts drop which has been a huge change. I hit the ball really well in Scotland and Sweden and I brought that form into this week."
Artis currently ranks 42nd on the Volvik Race for the Card money list with $15,295 earned in just 13 events played.  She ranks 19th on Tour in scoring average at 72.31.
"Without counting on results, I planned on playing this week and next week in Daytona and then have the week off leading into second stage of Qualifying Tournament.  That was always my plan."
Artis played in three events on the Symetra Tour in 2010, but played exclusively on LET from 2011 through 2013.  The reason she decided to play Symetra Tour this year is because she won on the LET last year and has a two-year exemption to play LET through 2015.
That being said, her ultimate goal is the LPGA Tour.
"This is my fifth year on the LET and I love it out there.  I've had some pretty good results out there including a win in Sweden last year, but at the end of the day the money is on the LGPA Tour.  My goal is to be playing full-time on the LPGA.  Whether it is through Qualifying School or the Symetra Tour, absolutely the goal is LPGA."