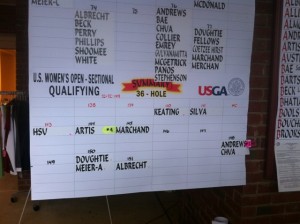 Pre-qualifying for the US Open Championship is always a difficult task. This year the Women's US Open is being held at Donald Ross's famed Pinehurst No 2. It is the first time that Men and Women get to play the same course, under the same conditions, and for that reason that this year's US open feels pretty special.
This year my lone female player, Rebecca Artis, is focused on finishing inside the Top 10 on the Symetra Tour Money list and getting her LPGA Tour card in 2015.
I don't know if following your players around the course is something that is expected of every coach, but it is the way it has always been done in my family. At the 2002 Australian Masters my father, Gary Edwin, had 17 players in the field. We used to watch them all play at least three holes each. That equates to about 51 holes per day. The days they got drawn together were easier, except the Sunday when two of his players, Gavin Coles and Peter Lonard, were in a play-off with a young Adam Scott.
My one-player policy developed to avoid situations like this. There is never any clear feeling of success or failure when you are invested in multiple players. One is always on a high, winning, finishing with a birdie and in the top 10, while the other makes double up the last, is suicidal and wants to go straight to the range. Where do you go: to celebrations or to the range?
There were few followers on the sides of the fairways at Carolina Trace Country Club in Sanford, North Carolina, for the 36-hole Women's US Opens sectional qualifying. It was hot and the course was built in the side of a mountain. So many of the holes were so far apart that is was not uncommon to get lost trying to find the next tee.
You know it is going to be a long day when your player hits her first six approach shots within 10 feet of the hole and is one over par. The wind is up, the greens are fast, and tension is starting to mount from inside the ropes. Rebecca is overruling her caddy and starting to pull her own clubs. This would be fine if she carried a yardage book, but she doesn't. Geoff Artis, Rebecca's husband, is an unbelievable caddy. He maps every slope and knows exactly where she should hit it, and with what club. He is almost invariably correct. I caddied on the Nationwide Tour in 2002 for Gavin Coles, and for Jan Stephenson on the LPGA Tour in 2003. Watching Geoff makes me realize that I was a terrible caddy.
Rebecca's driving average for the year is over 90 per cent of fairways, and so when she misses one on the 7th hole and it hits a tree, my panic starts to set in. Another bogey and she is two-over through nine. It is about three-and-a-half hours back to Charlotte Airport and I'm already planning for an early departure back to Brisbane.
She hits every green on the back nine. Every club that Geoff selects for her she hits it close but misses the putt; every time she selects a club, she hits it to 30 feet and somehow holes the putt. Geoff is not looking happy. It looks like they have stopped talking. Two-under on the back nine and she posts the fourth best score of the morning.
There is no break; they go straight back up an enormous hill and a birdie starts the afternoon round. Things are looking good with four holes to play. The struggle between player and caddy continues, but some remarkable par-saves keep the score intact. Rebecca is one-under with an easy par 5 to play. She is in.
The 15th is a short par 3 with water in front of the green.  She hit a seven iron to 10 feet behind the hole in the morning.  I see the shot; the trajectory looks too high. It lands on the bank short and rolls back into the water. A double bogey and it's all over. I've just walked 30 holes around Mt Kilimanjaro for nought.  The car ride home will be even worse. Rebecca hits a very angry wedge to three feet on the next and a birdie, holes a 12-foot par putt on 17, and is staring at a 10-footer for par on the last hole to finish with an even-par total. It's all over. I hear someone in the gallery say that even-par is in.  It's not all over; it's a miracle! The putt goes in. It is joyous. It has been a long day and I am sunburned beyond recognition, but it has all been worth it. The battle has been won.
I tell her to go hit some balls and get ready for a play-off, but I'm hoping it will be unnecessary. It's getting dark, I have a plane to catch, and if there is a play-off it will be up Mt Vesuvius. There is one group still out on course and only one girl who could possibly edge us out. We are in.
Ally McDonald birdies the last and finishes even. We are not in; we are going back out there.
Both girls find the fairway. Ally McDonald hits her approach right over the flag and takes what seems to be an eternity to hit her putt. Noonan … You just can't help saying it in your head. It goes in very slowly and right in the centre. The following fist pump and exhalation feel like a sword piercing my skin and slicing right through my torso. It sounds like she just won the US Open. We are out: First Alternate.
It is pouring rain. Geoff is driving very fast.  No one talks. Apparently she hit an eight iron on the 15th hole. Geoff told her to hit seven but she had overruled it.
I say, "Why do they even bother playing off for second alternate?"
Geoff replies, " I am not going to go, even if we do get in!"
Rebecca arrived at Pinehurst today. She is in. Apparently Geoff is there also.
Luke Edwin
garyedwin.com