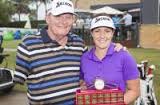 REBECCA Artis  became the second successive woman to win the annual Jack Newton Celebrity charity pro-am. She carded four-under 67 to win "the Jack" by two strokes at four under par.
"It's nice to see the women dominating the men," Artis said.
Rebecca only returned to Brisbane on Monday morning, after finishing the final event of the European tour, the Dubai Ladies Masters.
From there she drove to the Hunter Valley and arrived at 10.30 Monday night.
"I came up through the Jack Newton Junior Foundation and wanted to get back and support it," she said.
Rebecca was the top Australian on the European tour at seventh on the money list with earnings of $244,550.
"I've found the key to winning is leaving the Husband in the clubhouse drinking beer, and caddying for myself" Awesome!