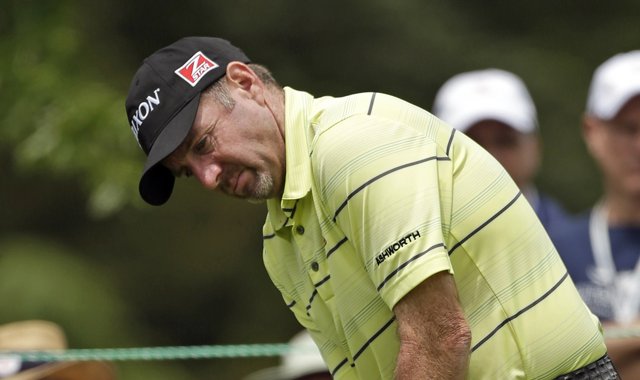 Rod Pampling had another good day at Quail Hollow, 4 birdies and 1 bogey for 69 and a tie for 5th, three shots behind leader Phil Mickelson and a single stroke out of second.
A strange development unfolded Tuesday and Wednesday morning. Players started withdrawing from the Wells Fargo as if the town were on fire. They pulled out for myriad reasons, some for injuries, some apparently because they didn't like the six splotchy greens at Quail Hollow."I am absolutely shocked I got in (after being 10th alternate)," said Pampling, the last man in. "Having been in this position often this year, I know that the list normally moves only one or two spots."  "With the opportunity there, I'm trying to grab as much of it as I can," said the motivated Pampling.
Rod extended his thanks to Crane and the others who departed. "I'm so glad they did that," said Pampling, who in six 2013 Tour starts has made three cuts, with a best finish of T-42 last week in New Orleans. "I'm so glad to be here. This is a great golf course. " Interesting thing about perspective. Spotty greens to one person can look immaculate to another. "Some guys who were here a couple of days had a negative reaction to them, but I'm more than happy to be here," Pampling said, smiling. "These greens look good to me. I'll putt on these for ($6.7) million." Pampling's ball-striking has been what he labels "great" since late last year, but he has been held back by putting and short game and the inability to get into a rhythm while playing an on-off, partial schedule. This week has been different, though. He putted well during the Monday qualifier and the first two rounds.