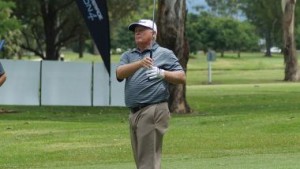 Peter Senior won again at the Noosa Legends Pro-Am which starts a week of Sunshine Coast Legends events.
He carded  5-under 67 Senior finished two shots clear of his nearest rivals Mike Zilko and Michael Barry.
A stellar field of over 70 Professionals competed including Ian Baker-Finch, who enjoys playing on the E-Z-GO Legends Tour when back in Australia.
"I can't remember when I was here last but I enjoyed being back," said Senior.
"I'm thankful that Ian Baker-Finch invited me to get up here this week and I'm looking forward to the next few days."