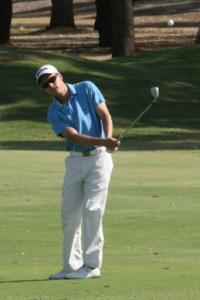 Taylor Cooper won the Stonecutters Ridge Trainee Match yesterday with a round of eight-under-par. He now leads the NSW Trainee Order of Merit with a scoring average of 1.2-under-par. Taylor has finished under-par in his last eight starts; these include rounds of five, six, two rounds of seven and an eight-under-par.
"I have one year to go in my trainee-ship then I want to pack my bags, get married and head to America." said Cooper
With only two weeks remaining and a healthy lead in the National Averages; he is looking good to finish another year on top of the NSW Trainee Order of Merit.
Well Done Taylor!