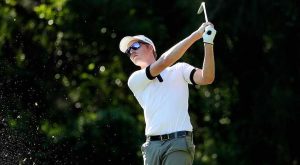 Taylor Cooper made six birdies in his opening round at Fujian Putian Mazu Golf Club on the PGA Tour China.
"I've been hitting the ball really well, actually. It's just the putter that's been a bit of a struggle," said Cooper, whose best finish in nine previous starts was a tie for 12th at the season-opening Henan Open in May. In his last three starts, Cooper withdrew from the Ping An Bank Open and then missed the cut last week in Hong Kong. "The putter has just showed up only here and there this season."
It did Thursday, as the 24-year-old Right-Sider rolled in five birdie putts and chipped in for a sixth. He finished with a round of 67 and is leading by two.
"I hit it close with my wedges when I had wedge chances, and I just holed the putts," Cooper said.