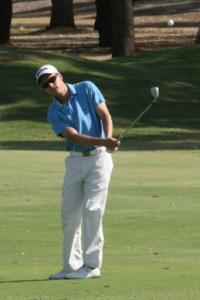 Clear blue skies and a crisp breeze were the conditions faced by the Trainee professionals on day two of the 2014 Coca-Cola Rich River Trainee Classic. The gusty conditions and some tricky pin positions made ball control a priority for the players as they plotted their way around the testing Rich River Golf Course layout.
Although the wind kept the temperature down the scoring was red hot as Manly Golf Club's Trainee professional Taylor Cooper added a six under par score of sixty-six to his first round score of seventy-one. As a result of great ball striking, seven birdies were scattered through his score card for the day. His thirty-six hole total of seven under par gives him a three shot lead over the chasing pack.
Several players who also scored well in the favorable conditions was first year Trainee, Adam Burdett, from Yarrawonga Mulwala Golf Club Resort scoring a five under sixty-seven. Second year Trainees including, Braden Becker from Mandura Country Club, Stuart Meani from Camden Golf Club, and Dean Dixon from Brighton Golf Course, returned three under par rounds of sixty-nine. The chasing pack moving into the third round is headed by Burdett at four under, Aaron Coates from Yering Meadows Golf Club at two under, and Becker one stroke further back.
The thirty six hole cut was made at eleven over par leaving fifty-eight players to battle for the title, and the remaining Trainee professionals competing in a thirty six hole sweepstakes event. With a forecast of continuing fine weather the scene has been set for an exciting final two days.