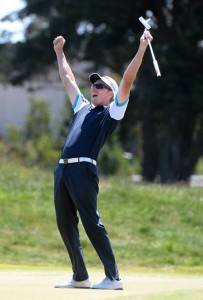 Taylor Cooper has won the National Futures by 5 shots after a dramatic finish at Ballarat Golf Club.
"I'm very happy with the win, it means a lot," said Cooper who finished his tournament with a twenty two metre putt for birdie on the last hole.
"I've been playing well lately. The last six months have been awesome."
Aside from pocketing almost $10,000 in prize money, Cooper has also booked himself a start in the 2015 Australian PGA Championship to tee it up alongside some of the world's best golfers.
"I'm really looking forward to that. I've played the Australian Open and Australian Masters before, but never the Australian PGA."
"I had two missed cuts, so making the cut is the goal and hopefully be up there for a chance to win."
Pitty, who was the overnight leader after round one, also commended Cooper's efforts.
"I managed to chip in on the 16th and he made a double (bogey), to make things a bit interesting, but Taylor deserves the win, he played really well.
Well Done Taylor on an fantastic victory and another year on top of the NSW Trainee Order of Merit.