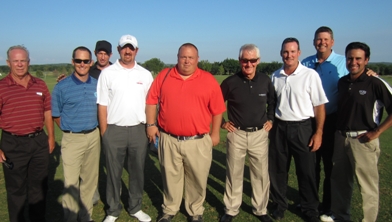 Gary describes the Academy at Winstar World Casino as the ideal place to learn. We would like to thank everyone who attended Gary's first US seminar. Gary was inspired by the distances some of you travelled to attend the seminar and the team enviroment the seminar had. We would also like to thank PGA Tour player Gavin Coles, who helped make the day a success with his great knowledge of the Right Sided Swing and experience in applying it. Also to Bill Knodle,World Hall of Famer Sandra Haynie and Buddy Fichera at Winstar for setting up a great academy,their incredible hospitality and the many members and hotel guests who also attended.
We have had so many wonderful emails complimenting the facility and the seminar in general.
And to Bill and Sandra–what an incredible facility, and what excellent hospitality. I left wanting to return as soon as possible. Maybe WinStar can be my site in the US from now on to develop a decent game.
I loved and appreciated every minute, and will always remember getting a bit of molding by Gary. The assembled team worked hard to inform, to encourage and  to help all of us. You put up with us, too, which is a decided plus. Thank you all again!
Your passion for helping players
AND coaches is amazing to watch, and the fact that you make yourself so
available to guys like me is a blessing in my life