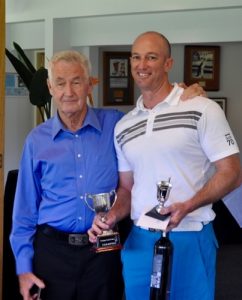 Peter Krawitz birdied the 18th hole and edged out his playing partner and four-time RSS Tournament Champion, Jason Pavese, at the Grand Golf Club on Sunday. This is the first time anyone has beaten Pavese since the Tournament began in 2012.
Peter lost in a play-off in 2014 and it was great to see the GEGAS Training coordinator show everyone how it is done!
" I think he was one back coming up the last so it was nice to win with a birdie".
Peter was featured hitting driver off the deck in one of our latest Member Area videos.
Thank you to everybody who traveled from far and wide to attended this years event and to the Grand Golf Club. The course was in spectacular condition and a great challenge for all who participated.