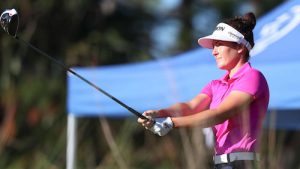 In 2015, I wrote an article titled 'Rebecca Artis: Long Road to Pinehurst'.
In that article, I outlined some of the pros and cons of tour life, and how hard it was for Rebecca to qualify for the US Open Championship. Playing 36 holes in one day for four spots is difficult enough, but LPGA Tour School is a totally different beast altogether. There are three stages of competition on the road to the LPGA, and only 20 Full Tour Cards await the lucky few at the end. Rebecca and Geoff Artis have been through said stages for the last five years. I was there for the first couple of attempts. Rebecca went close on each occasion, but there were glitches; bad things happened; and in the final rounds, 'The Beast' came out on top!
Rebecca is, by personal policy choice, my only female Tour Player. I outlined in some detail in my last article the reasons for this policy. I started working with Rebecca when she was 15 years old. She had braces, the widest takeaway I had ever seen, and a highly questionable sense of fashion. She played off a 12 handicap and it was only by chance that I was the one to give her that first lesson. Her father, Keith, who was in Daytona in the flesh this week, had phoned and spoke to my father, Gary Edwin, about getting a lesson for his daughter. The conversation started something like this:
Keith: "I want to book a lesson for my daughter, but everyone has told me to stay away from you."
Gary: "So why are you calling?"
Keith: "Well, they can't fix her, so maybe you know what you are talking about."
Keith and Rebecca drove from Coonabarabran to the Gold Coast for that lesson — a nine-hour drive. Gary was away on Tour and I remember my first encounter with Rebecca like it was yesterday. I recall telling Keith that day that I considered Rebecca to have something special. To be frank, the swing was not good, but one could see that she would stop at nothing to find out why — to understand how it all worked.
Six months later, Rebecca came and spent a week doing work experience at the Academy and the rest is history. She became part of the Edwin family. She ran Top-10 in the Australian Open at 17, as an amateur, with Keith on the bag.
Rebecca has won twice on the Ladies European Tour. I was there for the second win, but her first, the Helsingborg Open, I experienced in front of a computer clicking the "refresh" button on live scoring. This is the domain of all those who really care. You know who you are: clicking "refresh" and awaiting either the rush of current delivered through the electrodes attached to your nether regions, or else the rush of euphoria delivered by a final-hole birdie and movement inside the Top 10.
Tour School certainly turns up the voltage; "The Beast" cranks it from 12 volts to 240, and with plenty of amperage to boot. It's not a good week in jeopardy; it's everything — everything for you and your entire team.
We have not slept much this week. I spoke to Rebecca this morning and asked her if she was as nervous as I was. She replied that she was like a duck navigating a waterway: calm on the surface, but going a million miles an hour underneath. There were no glitches today; only good things happened and 'The Beast', finally, was defeated.
Rebecca sometimes helps out over Christmas at the Coonabarabran Bakery, which is owned by Keith and Roslyn Flood. I suspect that, this year, she may have her feet up knowing that her position at the bakery is no longer looking like a permanent prospect.
Rebecca finished the final round in 4th position and secured one of those hitherto elusive LPGA Tour Cards for 2018.
Stay Tuned!
Luke Edwin